At Protech Model it is very important to be able to have a good understanding of what the Customer wants. That is why we have to be able to accept and create Design files that are compatible with both the customer's and our design programs. The Design Programs that Protech Model uses allows a Customer to give us almost any file format and then have us to read them. The File Formats that Protech Model can read are for : Solid Edge, Solid Works, Edge Cam, Corel Draw and AutoCad.
These files don't only get used to be able to read files from Customers. The main purpose of these Software tools is to design the products that the Customer wishes to have made, Most often a customer will come to Protech Model with an idea for a product. Protech Model can then design the idea into a picture, make a mould, make the parts and also trim the products to give the Customer a complete finished product from his initial idea.
---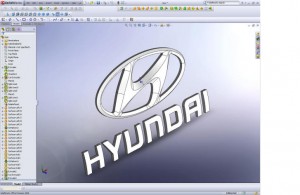 Design Of a Hyundai Logo and Word. A solid model is tweaked and modified for manufacturing as the final step before being sent to the CNC Machine. The Logo is Cut on our 3 Axis CNC as a single part. The letters of the Word were cut individually. The Logo and Words were all Vacuum Formed. The Logo gets Formed on our 2500mm x 1250mm Vacuum Forming machine, and the letters where formed individually on a 830mm x 830mm Vacuum Forming machine.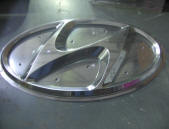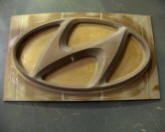 ---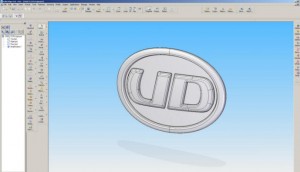 Design Of a Ultimate Dependability (ex Nissan Trucks) Logo. The design is the beginning of any product and ensures the Corporaste image detail is to specification. Because of the detail required for this product, patterns and then the conversion to a Glass-fibre mould was   manufactured for this product. This is one of three Mould sizes that were Vacuum Formed.